---
We are pleased to bring you the illustrated story of The Mouse Knight by Cutter Hays. The Mouse Knight was posted as a weekly serial from January to April 2002 and is now available for sale (click on the banner below to order your copy). After you read about our little hero, sign up for our Forums to share your thoughts on The Mouse Knight with Cutter and other rodent lovers, or send a Mouse Knight card from Virtual Squeaks.
---
Read the story on real paper!

(also available on amazon.com)

---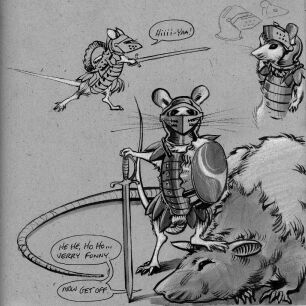 The Mouse Knight is 153 pages, 50 black and white illustrations. Limited editions numbered to 100. Signed on request. $15 plus shipping.
Book with a sketch in it is $20; or $40 with an inked drawing.

If you don't use PayPal, contact Cutter directly at .